The Japanese have a way of taking innovation to a new level and their toilets are no different. The toilets in Japan are modern and tech-savvy; becoming hot commodities all over the world. But what toilets afford you the luxury and technology, without having to make the special trip to Japan? You?ll find a list of best Japanese toilets in 2020 below based on their features, convenience, reliability, price tag, and authenticity, to help you find the best Japanese toilet for you.
4. Woodbridge T-0008 Luxury Bidet Toilet
Best feature: Luxury Without the Price Tag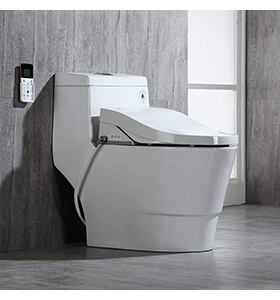 If you?re looking for the luxury of an Asian appliance, this could be the best Japanese toilet for you. Though their toilets are manufactured in California, Woodbridge?s designs are innovative and luxurious. It?s a sleek, modern, 1-piece toilet, with an attached smart seat that offers several wash and dry functions, self-cleaning capabilities, and more.
Features Overview:
Type: 1-piece toilet, smart toilet seat with remote
Material: Porcelain
Color: White
Water consumption (per flush): n/a
Shape: Elongated
Rim height: 16.5 in/41.9 cm
Product dimensions: 28.5 x 14.5 x 27.5 in/72.3 x 36.8 x 69.8 cm
Product weight: 134 lbs./60.78 kg
Pros
Comparable value: Compared to many other toilets in its category, this Woodbridge model is a bargain.
Variety of smart features: You can use the bidet seat for its pulse/massage functions, a variety of wash types, heater water and seat, and adjustable water pressure.
Comfortable profile: The design of the toilet was based on creating the most comfort, from its height to its shape.
Cons
Limited warranty: Woodbridge only offers a limited, 2-year warranty on their toilets.
Questionable shipping: Some customers claim that receiving the toilets can be?an issue, though often handled by customer service quickly.
3. Kohler K-4108 Bidet Toilet Seat
Best feature: Convenient Features in a Smaller Package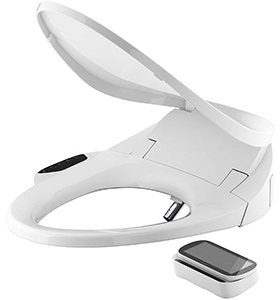 Kohler knows all about innovation and the reliable company has been keeping customers happy for decades. The K-4108 boasts a variety of features packed into one tiny seat, that can be attached to most elongated toilets. The touchscreen remote controls a variety of cool settings for water, temperature, wash type, and more. Kohler may have the best Japanese toilet seat without the hefty size, weight, and price tag that goes with it.
Features Overview:
Type: Attachable bidet seat, touchscreen remote
Material: Plastic, stainless steel
Color: White
Water consumption (per flush): n/a
Shape: Elongated
Rim height: n/a
Product dimensions: 20.4 x 17.1 x 6.1 in/51.8 x 43.4 x 15.4 cm
Product weight: 10 lbs./4.53 kg
Pros
Small, unique design: Kohler packed a variety of tech into this little seat, which attaches easily to the top of your existing toilet.
Touchscreen remote: The remote is not only touch screen,?but can be programmed with preset options for 2 different users.
Odor control and in-line heater: This toilet seat comes with a carbon filter that helps fight away odor and an in-line heater that provides continuous water-heating.
Cons
Expensive for its type: Compared to many other bidet seat attachments, the Kohler K-4108 may not fit all budgets.
2. Toto Ultramax II Double Cyclone Elongated Toilet with Sanagloss
Best feature: Traditional Toilet with Japanese Efficiency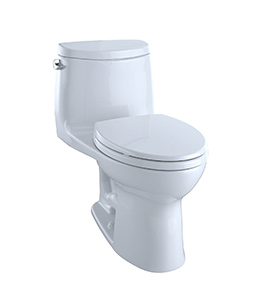 Toto is the premiere toilet-maker when it comes to the best Japanese toilet for your home. This model has a traditional yet non-invasive design, with a soft-close lid and super-quiet flush. The Double Cyclone flushing technology used is powerful and maximizes the efficiency of your water usage.
Features Overview:
Type: 1-piece toilet
Material: Ceramic with a Sanagloss finish
Color: Cotton White
Water consumption (per flush): 1.28 gallons/4.8 liters
Shape: Elongated
Rim height: 16.7 in/42.4 cm
Product dimensions: 35 x 33 x 23 in/88.9 x 83.8 x 58.4 cm
Product weight: 99 lbs./44.90 kg
Pros
Affordable: Compared to other Japanese toilets, this Toto model is a bargain; though it may not be suitable for all budgets.
Durable and resistant: The design and materials used resist corrosion, bacteria, and more. This toilet will perform efficiently for years to come.
Water efficiency: You won?t have to worry about using too much water with this toilet since it uses just above 1 gallon per flush.
Cons
No technological features: If you?re looking for Japanese tech, this toilet may not be for you.
Classic, non-modern design: This toilet is not modern or sleek in its design. It has a simple and classic design that may not be the ideal aesthetic for some.
1. Toto Washlet with Integrated Toilet G400
Best feature: Water Efficiency and Smart Technology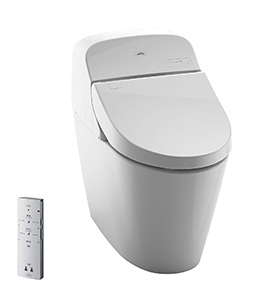 This amazing product combines the luxurious technology of Japan into an efficient and simple toilet. It can be purchased in two colors to help match any home?s d?cor and comes fully integrated with technology that efficiently saves water, heats the seat, and even deodorizes the air.
Features Overview:
Type: 1-piece toilet, dual-flush, bidet with remote
Material: Ceramic
Color: Cotton white or Sedona beige
Water consumption (per flush): .9 or 1.28 gallons/3.4 or 4.8 liters
Shape: Elongated
Rim height: 16 in/40.6 cm
Product dimensions: 28.6 x 11.6 x 26.9 in/72.6 x 29.4 x 68.3 cm
Product weight: 100 lbs./45.35 kg
Pros
Smart sensor: This toilet comes with a built-in sensor that allows it to flush automatically every time you get up and close the lid.
Variety of features: You can take advantage of the energy saver timer, heated seat, adjustable spray, 3 wash modes, air purifying system, and oscillating sprayer.
Pre-mist: Toto designed this toilet with a pre-misting system that primes the toilet and helps with the elimination of waste.
Cons
Expensive: This toilet may not be suitable for some budgets and is considered more expensive than most.
Flimsy self-cleaner: Many customers state that the hardware used for the self-cleaner is not long-lasting.
Conclusion
Finally, Japanese toilets are rife with technology and convenience. There?s no question that adding that convenience to your life could be worth it. From saving water to optimum hygiene, they offer innovation and cleanliness. Try one of the products you?ve seen here today on the best Japanese toilet list for yourself and let us know: how did you ever use a toilet before that?
---
Similar articles: